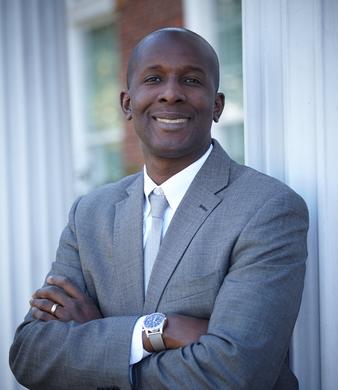 Hometown: Lanham, MD (10 minutes from Washington D.C.)
Name of Undergraduate Institution:  University of Maryland-Baltimore County (UMBC)
Major(s)/Minor(s) in College: Biology Major
Name of Medical School: Duke University School of Medicine
Residency Program:  Psychiatry – Duke University
Additional Links:
Website: DamonTweedy.com
Facebook: Damon Tweedy, M.D.
Twitter: @DamonTweedyMD
---
Where are you currently at in your career path and why did you decide to pursue this career path?
I am currently an Associate Professor of Psychiatry at Duke University. There, I teach classes for medical students and supervise residents. I do clinical and administrative work through the Durham Veteran Affairs hospital and clinics. I always envisioned working in academic medicine. I started off medical school thinking I'd do cardiology or orthopedic surgery. Psychiatry wound up being a better fit for me personally (more flexible schedule for family and outside interests) and more directly for my interests outside of medicine (law, writing).
If you could go back and have a chat with your 1st year postgraduate self, what would you tell him?
You have a lot more control over your what your medical future will be like than what other people tell you and what you might think. Choosing a specialty based on money is unwise.
What advice would you give to a medical student looking to pursue a similar path?
Always think about ways that you can combine a health career with some other passion you might have (teaching, sports, writing, media, nutrition, fitness).
What is your favorite thing about your job?
I do a variety of different things (clinical, administrative, teaching). The flexibility suits my personality very well.
Do you have another professional degree? If so, how has it impacted you?
JD (law school). Psychiatry overlaps with the law more than any other specialty. Definitely helped me with my approach to writing non-fiction books.
Do you have any passions outside of treating patients? If so, what are they and how do you find time to pursue these passions?
Writing. I hope to write a second non-fiction medical book, then start writing mystery novels. Probably will write a book about basketball at some point too.
What do you like to do for fun?
Play tennis with my kids and read books. I also like to watch playoff basketball, football, and baseball as well as Grand Slam tennis.
Who are some of your favorite musicians? Favorite books? Shows? Movies?
Musicians – Bob Marley, Al Green, Eagles, Stevie Wonder, A Tribe Called Quest
Shows – Law & Order, Pardon the Interruption
Movies – A Soldier's Story, The Godfather
Thank you so much for taking some time out of your busy schedule to share some wisdom with us Dr. Tweedy! Your thoughtful advice will surely resonate with the people who will read this! You are very much appreciated for everything that you do!
Health Career Spotlights Home Page
Posted on December 6th, 2017