First off, Happy Easter to each of you who celebrate this glorious day!
And if not, Happy Sunday to you!
I woke up this morning half-expecting the sun to be shining radiantly in the blue sky, birds to be chirping, sunflowers to be sprouting, bunnies to be hopping around, etc. You know, your typical PBSkids-looking sunny spring day. I got dressed and walked outside into a dreary forecast of clouds, fog, mist, and coldness. You know, the kind of thing you see in a graveyard in a scary movie. What an Easter.
That didn't screw up my mood tho! Then again, now that I think about it, what if this dreary weather is a grim reminder of my first Neuroscience exam I have…tomorrow???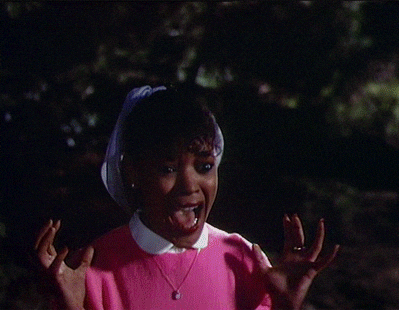 Yup that's right, I got my first Neuroscience exam tomorrow. You would think that Ola Ray's reaction above would be precisely how I feel right now. But if you know me well enough or have been following this blog for a while, you would also know that I'm not one to really ever freak out…unless I just witnessed Michael Jackson transform into a werewolf and was about to slaughter me in the middle of the woods. Then yeah, I would be screeching like there's no tomorrow. I like to keep my cool and to believe that I can trust myself to do well after all the long hours of studying I've subjected myself to. Honestly, I know I probably don't share the same view of this block as a great portion of my classmates but I'm actually finding this material to be highly interesting. It's almost as if I'm enjoying studying about the central nervous system (brain & spinal cord), everything that can go wrong with it and how to fix different pathologies relating to it via surgery procedures and drugs. I know, I know, I'm not smoking anything. I swear. Maybe I like it so much because it's extremely relevant to what I'm going to be seeing as a doctor. Or maybe because the brain is literally the cornerstone of the human body and it has so much power over what we do in our daily lives. Or I could just be a straight-up nerd. It's okay, you can point at me and yell out, "NEEERRRRDDD!!!" I've come to accept that title a long time ago. 😂 Regardless, it's been nice to actually understand how strokes work, how the brain coordinates movement/pain/sensation/emotion/homeostasis/yadda yadda yadda and what the drug commercials are advertising as well as how those drugs work in the body. Don't get me wrong, this ish ain't easy. It's actually SO MUCH information…like I've been having study-thons these past couple of weeks. But the material has definitely been capturing my interest. So with all that said, I'm ready to take on this test tomorrow, rain or shine!
Also, I FINALLY found out what I will be doing this summer. Turns out I'm going to be a Teaching Assistant for the wonderful Minority Students In Health Careers Motivation Program, run by the Office of Diversity and Multicultural Affairs at the Miller School of Medicine in Miami! (Talk about a mouthful.) I just can't seem to stay away from South Florida 😅. I'm looking forward to meeting the students in the program as well as sharing my first-year experiences with them as they are looking to pave their way into the medical field. I'm just glad I was given the opportunity to make something out of my summer; Lord knows I don't know how to sit idle. I also wasn't landing any of the paid research positions I was applying to, so I really wasn't sure what I was about to occupy myself with this summer. As a matter of fact, one program still hasn't hit me back up yet now that I think about it…not that it matters anymore anyway. I'm more than happy with this TA position I was blessed with.
There's a couple more things I wanna touch on before I wrap up. First, in our medical ethics class for the past couple of weeks, we've been talking about death, the complicated feelings associated with it, and how to deal with it as doctors both on a patient and an individual level.Yeah…it was pretty depressing. We delved into what our visions were on a "good" death, what our visions of death were based on, the moral significance of death, and how American culture views it. We also touched on why it's still very difficult for physicians to deal with mortality even when we all understand that everyone has an end to their life. It wasn't a fun topic to have, but it did get me thinking on how much power a society has on influencing the way we think about things, including mortality. On another note, we had a nationally known speaker named Robyn Ochs come speak to our class on the topic of bisexuality. She was funny man. I ended up learning a ton from her presentation; things I really never considered at all when it comes to the LGBTQ population. I'm glad I was able to attend and further diminish any ignorance I may have had for the population. Ignorance is bliss y'all…it truly is a danger in this world.I'll be sure to think back to Mrs. Ochs whenever I have patients in the future that identify themselves in that group.
That about does it! Have a lovely week!
A change in your life can only come from a change within yourself.
– Black Man, M.D.
P.S: I'm still salty I didn't get to go to the SNMA conference this past weekend…and that my bracket is completely busted after Kansas's loss last night. Way to go Jayhawks.