I want to start this post off by giving a shoutout to each of us for making it to the end of this crazy year! By the grace of God, we've survived a year full of unpredictability, uncertainty, ridiculousness, and insanity. But at the same time, as President Obama has beautifully summed up in a series of tweets, there are countless stories of people that did amazing things throughout the year even though our collective consciousness has been dominated by endless reports of bad news. Through the good and the bad though, we've all grown in our own respective ways this year, and we should definitely take a moment to reflect on our experiences of 2017. With that said though, I'm sure that we are all ready to start off 2018 with a BANG!!
Personally, 2018 is going to be a HUGE year in my life. Not only will I be taking both parts of Step 2, I'll also be applying to residency programs throughout the country and will have to make the ultimate decision as to what specialty I would like to devote my life to. In addition, I'll be finishing my third year and will be starting my final year of medical school.
I gotta say that again because I don't think I understood that well enough the first time.
I'LL BE STARTING MY FINAL YEAR OF MEDICAL SCHOOL.
Final year of medical school?? It doesn't feel like that long ago that I was just starting this blog and my first weeks of LAUNCH and Anatomy as a new first-year student. Hell, my senior year of college is still a fresh memory to me! What's even more wild is that in just another year, I'll be the recipient of a medical degree! I'll actually be Christel Wekon-Kemeni, M.D.! That's so exciting and terrifying at the same time 😅. Exciting because I'll have something tangible to show for all the prayers that have been sent my way coupled with all the sacrifices and work I put into this journey. Plus, I'll finally be doing something that I truly enjoy doing on a daily basis, and I'll be getting paid to do it! Terrifying because I currently do NOT trust myself to be fully responsible for another person's life, and I don't know if I'll feel much better about it when I graduate. The silver lining is that as a resident, I actually will have other residents and attendings with much more experience than me looking out for me. THANK GOD. But let's not get ahead of ourselves; I haven't even entered 2018 yet lol. It's going to be a dynamic year, and with the midterm elections happening later on in the year, there will hopefully be some major changes in the current government as well.
As for 2017, it has been a very active and productive year for me. Like, VERY active. And VERY productive. I went from studying kidney pathophysiology as a second-year student in my Renal block at the beginning of the year to caring for stroke victims in my Neurology rotation as a third-year student at the end of the year. In addition, I became much more aware and active in this country's political scene. I survived the Step Study Period and succeeded in completing my Step 1 exam. I've transitioned successfully from my basic sciences curriculum into my clinical rotations. I've seen and done things in my rotations that I've never done before in my life and have had experiences with patients that I will never forget. I attended the SNMA's Annual Medical Education Conference for the first time, and had an awesome time there even with my disastrous performance at running for the position of Regional Community Service Liaison for my region. I was one of ten medical students in the nation to be selected for the SNMA's National Future Leadership Program. I've traveled to several other high-quality conferences this year and met a number of influential people while at these conferences. I traveled to Mexico for the first time in my life and had an unforgettable experience there with some great friends of mine. I helped deliver a set of twins via C-section on my 24th birthday. I've continued to expand this blog throughout the year and am working on plans to further extend its reach to an even larger amount of people. I lost the only grandparent I had left in this world. I've been reminded of the strength and resilience of my family. I witnessed the best football season that the Miami Hurricanes have had since the early 2000's, ranking up to as high as the #2 team in the nation at one point before our dramatic fall from the top with the losses of our last three games. I've had a major potential shift in my career goals. My girlfriend was accepted in a highly competitive MSPH/PhD program at UNC and is now much closer to me in distance. And in an unbelievable twist of events, she is now practicing her FIFA skills to one day beat me in the video game that I'm best at. These are just a few of the many highlights of my year, with some lowlights sprinkled in between.
It has been a hell of a year, and this past week of relaxation was a calming end to such a wild year. I didn't do much last week other than spend a lot of time with my family, play a ton of FIFA with my brother, work on my blog, toy around with ideas that I would like to implement in the near future, and catch up with some old buddies. I flew to Atlanta last Friday to spend time with my girl and her family, and that's where I currently am right now. I have a whole 'nother week to chill here before I get back to the third-year grind, and best believe I'm absolutely going to be making the most of it.
Congratulations to you on surviving another year on this Earth, and CHEERS to a fruitul and prosperous New Year!!!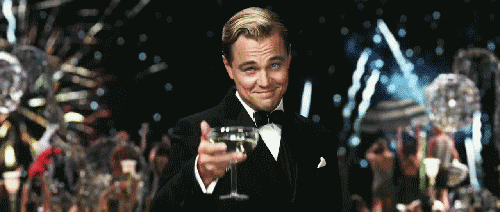 "New Year – a new chapter, a new verse, or just the same old story? Ultimately we write it. The choice is ours." – Alex Morritt
– Black Man, M.D.