I'm just going to go ahead and warn you now, this post might end up being one of my long ones. I already know that I'll have plenty of opportunities to get long-winded as I type about my experiences at the SNMA's Annual Medical Education Conference, where I spent most of this past week at. I'll try not to write a novel about it all, but if you've been following this blog for some time now, you know that I'm more than capable of doing so without even realizing it lol.
So now that I've prefaced this post by saying that, let's get started. 😊
Like I said, I spent the vast majority of last week at AMEC, which took place in Philadelphia this year. It was such a great time, although I was much busier at this conference than I had been in the other AMECs I attended these past couple of years. It also happened to be the 55th Anniversary of the Student National Medical Association, which only added to all the hype and fanfare surrounding this sold-out conference. Before I get into all of that though, I first want to talk about an unexpected experience that took place the day before I traveled to Philly, that of which has nothing to do with the conference. I literally just thought about it right now and figured I would share it with you since it was cool and all and it happened before I went to AMEC.
I had been in Chapel Hill the weekend prior to the conference and I had planned to stay there with my girlfriend until Tuesday morning, which was the day I left to go to Philly. On Sunday, she told me about an unanticipated rally that Beto O'Rourke was hosting at UNC the very next day and asked if I wanted to go while she was in class. I figured that I wouldn't have anything to lose by going, but I also didn't want to have to deal with the parking situation on campus…..plus I was busy getting ready for the conference and I didn't really want to interrupt my day by going to a rally for a few hours. In addition, there are so many candidates in the Democratic primary race and I think that it's far too early for me to throw my support behind someone, especially since I haven't done a ton of research into each of their respective platforms. So with all that said, I decided that it would be a gametime decision.
Monday afternoon eventually came around and I finally made the decision to go and listen to what this presidential candidate had to say. I liked watching him speak on TV and I figured that it would be cool to hear him speak in person now that I was given the chance to do so. Plus like I said, I had nothing to lose. So off I went.
I got to campus, found a visitor garage to park in, walked across campus to the student union, and dropped my jaw when I saw the line to get into the building.
Bruh, it was so long.
It wrapped around the building and stretched deep into the courtyard. As I walked alongside all of these people in line, I started to become concerned that it was never going to end. When I FINALLY reached the end of the line, I just stood there in disbelief and was about two seconds from saying "screw this" and walking back to my car when the people in front of me started to engage in conversation with me. I then convinced myself that I would wait about ten minutes to see how fast the line moved before deciding if I was going to leave or not. Thankfully (and surprisingly) the line began moving rather quickly and before I knew it (actually took a little over twenty minutes), I was very close to the entrance. 😁
Then they halted the line.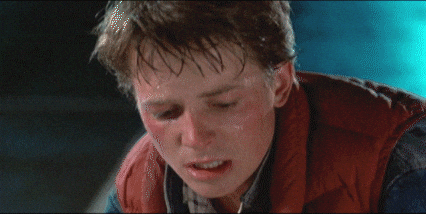 They informed us that there probably wouldn't be space for the rest of us and offered that we could see him speak outside for a few minutes before he walked into the building. At this point, I didn't care either way. I just wanted to see this man speak so that I wouldn't be mad at myself for having made this trip to campus. So I stepped to the side along with a few other people and patiently waited for his arrival. Because I was one of the first people to decide to step out of line, I ended up being front and center of the small platform he was given to speak on. When he finally did arrive, I found myself literally a few feet in front of him. It was pretty cool, to say the least.
He spoke to the small group of us for a few minutes and then shook hands and took pictures and whatnot. I got the chance to shake his hand, look him in the eye and express my thanks to him for coming to speak to us. I wish I had been able to get a legit picture with him, but he was obviously being pulled in every direction and I only was able to get pictures of him with other people. I took a few selfies as he was speaking but I looked like a straight-up dweeb in them, so I'm not sharing them with y'all 😂.
All in all, it was a pretty cool experience and definitely not how I expected my day to go when I woke up that morning lol. I'm glad I took the time to go see him; I got to shake his hand, listen to him speak and I didn't even have to spend that much time there because after he went inside, I just left. Now if I could have similar experiences with some of the other candidates and/or the Obamas, that would be spectacular. This is me speaking it into existence! 😉
What the hell, I'm at 1000 words and I haven't even started talking about AMEC. See, this is what I was talking about at the beginning of the post; y'all should have just told me to shut up. Welp, I guess I don't have any choice but to continue. 🤷🏿‍♂️🙃
I left for Philly on Tuesday afternoon and after hopping off my quick flight, I arrived at the hotel that I would be spending the next five days in. I already knew that it was going to be LIT the moment I walked up to my room and noticed that I had two doors as opposed to one.
Once I got settled into my suite, I grabbed dinner with a couple of friends and prepared myself for the events that would be taking place at the conference, starting with the community service event that was scheduled to take place the very next morning.
This event, the Healthy Attitude Summit, was co-sponsored by the SNMA and the Student Health Impact Project and its purpose was to engage with local high school students in order to help inspire them to pursue careers in the STEM fields. We engaged with them via interactive sessions where we taught them basic medical skills (CPR, blood pressure measurements, heart sounds, bag-valve-mask ventilation, splinting, etc.), introduced them to osteopathic manipulative techniques, taught them about vision & dental care and emphasized the importance of exercise and physical fitness. They also were able to listen to a few people speak, including a public health professional who talked about the power and inherent dangers of addiction. My main role throughout my time at the event was to float around, which pretty much meant to "get in where I fit in". I found myself helping out at the CPR station, where I met some interesting high school students who impressed me with their high level of interest in the field of healthcare. I also got the chance to catch up with old friends as well as establish new connections with pre-meds and medical students while I volunteered alongside them. It was a great time!
I spent that afternoon at a Board of Directors meeting, where we talked about the business of the SNMA and kept everyone informed of what to expect in the next few days. There was going to be a huge influx of conference attendees the very next day, so it was important that we were all on the same page. After the meeting, I made my final preparations for the conference before going to sleep. I knew that I was going to be very busy this conference due to the fact that I was holding the position of Region IV Director, which meant that I was literally being held responsible for the MAPS and SNMA chapters in my entire region (chapters in the Carolinas, Georgia, Alabama, Florida & the Caribbean) when it came to business matters during the conference. So I had to make sure that I was at the top of my game by the time the attendees arrived. I had already made agendas for the regional meetings that I would be running, sent out all the documents that I deemed to be helpful for AMEC to the chapters in the region, and even created a GroupMe for all the conference attendees from my region (this eventually grew to include 250+ people) so that people could stay in communication with one another.
With all of this complete, I felt as prepared as I was ever going to be. However, I still didn't sleep that well that night because I honestly was a bit nervous about how I was about to represent a whole region at the House of Delegates meetings and run two separate regional meetings as well as host regional elections, considering the fact that I had just unexpectedly taken over as regional director just two short months ago. I also knew that I wouldn't be anywhere near as free as I was in prior AMECs to do whatever I wanted to do or to go to whatever sessions I wanted to go to because of my responsibilities as regional director, which bummed me out a bit. And lastly, I definitely planned on having fun at the nightlife events, so I already knew that I would find myself running on less sleep than usual throughout the conference, which would leave me feeling drained every day of the conference. With all of this in mind, you could probably imagine how much my mind was racing as I tried to fall asleep.
Turns out that I was pretty much spot-on with my predictions.
I was TIYYYAADDD, especially from Friday-Sunday. I ended up rallying throughout each of those days and making it to all of the nightlife functions, where I would spend a few hours at before crashing on my bed for another few hours only to get up and do it all over again. The vast majority of my time at the conference was spent at either the House of Delegates meetings, where the official business of the SNMA took place over the span of three days (including the elections of national officers), the Board of Directors meetings that took place both on Wednesday night and throughout the day on Sunday, my two regional meetings where I held regional elections as well as updated the regional members on the status of the region and touched on a variety of topics pertaining to our region, some other random meetings that I was pulled into, the AMEC Opening Ceremony, the President's Luncheon, the Exhibitor's Hall, and the Closing Banquet, where SNMA graduation took place as well as the delivery of regional speeches and chants (I gave one of those speeches 😄), the distribution of awards, the delivery of a keynote speech, and a variety of other things. Oh and I put together a compilation video of the ten regions, that of which was shown at the banquet! The video ended up coming together quite nicely, but maaannn getting that video to the tech team was a hell of a stressful ordeal that I don't even feel like talking about right now….let's just say that the people at the banquet were able to enjoy the video mere minutes after the tech team received it. Lol. I'm just glad that it all worked out. 🙏🏿 I did end up missing the graduation picture of all the fourth year medical students because of the ordeal though, but it's all good. I probably wouldn't have even been able to spot my face in the picture anyway. I did get my stole and walk across the stage thooo!!! 🙌🏿
Man, there's so much that I could talk about regarding my experiences at AMEC but then I would be sitting here all day, fervently typing away. I gave about as decent of a summary as I could, and I still ended up typing up a novel that's now well over 2000 words and counting. There were such dope vibes all throughout the conference, and I got to listen to some AMAZING, INSPIRING & INFLUENTIAL physicians speak while I was there. I also got the chance to catch up with a lot of old friends as well as make brand new ones, especially within the region I was leading these past couple of months. And lastly, I was able to successfully transition both of my leadership roles (External Affairs National Committee Co-Chair & Region IV Director) to my successors, so I'm officially off of the SNMA Board of Directors! Definitely a bittersweet feeling, but I know that the people I've transitioned power to will be phenomenal in their respective positions! Plus, I'll still be in the background helping with transition stuff, so I won't be completely ghost or anything. Oh and speaking of the External Affairs Committee, HUGE shoutout to my co-chair, Osose Oboh, for being elected as President-Elect of the Student National Medical Association!! That's my co-chair, THAT'S MY CO-CHAIR!!! 🙌🏿🙌🏿🙌🏿
Now that the conference is officially over (I was EXHAUSTED yesterday and ended up getting a smooth nine hours of great sleep after collapsing on my bed), I'm back in Winston kicking off my Intern Boot Camp experience. We were given a TON of great information today that I'll share with you on my next post because I'm tired of typing. And you're probably tired of reading. But you a real one, which is why I appreciate you! 😁🤗😄
I look forward to seeing what this week has to bring and to sharing my experiences with you next week! I hope that your week is a marvelous one!! To those of you who celebrate it, I hope that your Easter holiday was a gratifying one!
Also, please keep the families of the many people who were targeted by the horrific acts of terrorism in Sri Lanka in your thoughts and prayers. Words cannot even begin to express the sadness, anger, despair and anguish I felt when I first learned about that catastrophe. Like, what can you even do or say in the face of something like that? Smh. The world can be a scary place man. I'll definitely be praying for them.
"If we did all the things we are capable of doing, we would literally astound ourselves." – Thomas Edison
– Black Man, M.D.
P.S. – I hope you all are ready for AVENGERS: ENDGAME!!!!!!!!!!!!!!!!!!!