Bruhhhh my little brother turns 19 tomorrow…😳😧😰
Where has the time gone?? I still distinctively remember when I was 19, living out my sophomore year of college without a care in the world. Okayyy I cared a little. Had to keep up my GPA to keep my scholarship…and to make sure I became a doctor…but still, I was having an awesome time. I remember telling myself how grown I was…which means my little brother is pumping himself up on how grown he is. Thing is, he's actually a man now…that's crazy to me.
What happened to the good old days man?? Back when my biggest stressor was deciding what starter Pokemon I should pick on my Game Boy Advance? Or what character I should choose to whup my brother's ass in any given Dragonball Z game on PS2? Or even missing most of my Saturday morning shows because my mom STAYED making us clean the house from top to bottom? Shiii, I wouldn't mind relieving some of my childhood experiences for a day or two…life was so easy back then. I wasn't worried about trying to differentiate between the tensor tympani and tensor veli palatini muscles or about trying to figure out the innervation of the 12 cranial nerves and its a-thousand-and-one branches. Only branches I knew back then were the ones I used to climb on…*deep sigh* 😔
Well I'm now 22 and I got my third anatomy test this Friday. Talk about a stressor. However, now that I know that anatomy grades don't really matter in the long run and aren't even high-yield for the Step 1 Board Exams, I'm not really trippin'. But anatomy still isn't something you can just glaze over and BS. You do that and you'll fail. Quick. So I might as well keep doing the best I can do since it's been working for me so far. But ima be real…as of right now, I ain't ready for test at all lol. But I do know that I'll be good come Thursday night, because when you keep telling yourself failing is never an option, you eventually end up believing it and you tend to find ways to make things go the way you want it to. Sooo I'm not ready, but I simply refuse to fail, so I'll find a way to not only pass, but do better than I did last test, Lord willing.
I've also come to realize that there's a general pattern to this anatomy BS. We go in the first day of a new block and our lecturers throw hella info at us, expecting us to whine and pull our hairs out about it while they (most likely) smirk in their offices. That whole first week of the block, a majority of us are complaining to each other about how completely lost in the sauce we are. I'm usually asking myself "how the hell am I gonna learn all this??" Then I laugh to myself in a delusional manner and hit the gym. Second week comes around and I'm starting to very slowly piece certain things together while going thru all the lectures and labs getting hurled at us. I'm still pretty lost at the beginning of this week, but I'm lost in a more confident and upbeat way. By the end of the second week, I feel like I have a little more than a basic understanding of the material because I realize that although we continue to get new lectures, there is a lot of repetitive information that ends up getting drilled in my head. Then the third week (exam week) hits and we STILL learning new material, but by this point I'm screaming to myself, "only ___ more days until my free weekend!!" Then Thursday night I have a nice chat with the Father before going to sleep earlier than usual. On Friday morning, I throw another Hail Mary prayer before I click Start on my exam. By Friday afternoon, I feel like Diddy. Then by Sunday night of the same weekend, I'm silently weeping myself to sleep about starting the cycle all over again the next day.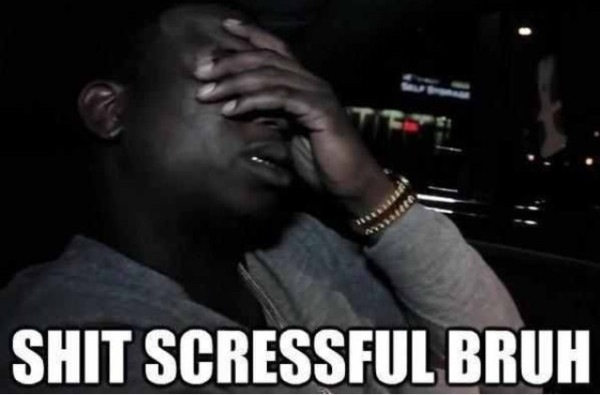 It's all good though, because after this upcoming test I'll have one more block of anatomy!!! 😄
Then Biochemistry starts and I'll have to start listening to three-hour lectures while taking notes on 100+ Powerpoint slides.
Honestly, other than having made some incredible friends here and having an enormous amount of support from old friends and family, only reason I'm getting thru all of this with a smile on my face is the fact that I continue to put time aside to volunteer for various things. It reminds me that the world is very much alive outside of the four walls that tend to trap me more often than I would like. I actually started participating in a once-a-week tutoring initiative this past week called Project TEACH through the SNMA (Student National Medical Association) group at Wake. I went in last Tuesday thinking that I would be helping out underrepresented high school kids that were having trouble with their school assignments….but I quickly found out as I walked in my first session that we would actually be helping out not-so-underrepresented gifted middle school children. I admit, I was a bit confused because I did expect quite a bit more diversity, and the kid I ended up getting paired with was smart as hell. He's actually a pretty funny kid with a very thick Southern accent that loves to fish and hunt, both of which I have actually never done 😅. It was a good time though, we vibed for a while after I helped him a bit with his homework. I have a feeling that tutoring him is going to be a blast. I also get to be a role model for a young guy that doesn't look like me, which I find to be a pretty cool and unique experience. I would also love if we could add some color to the mix of students, because I know that if I had come, as a young black middle school kid, to a nice tutoring facility and saw some medical students that looked like me trying to achieve great things with their lives while taking the time to make sure I was doing alright in school, I would highly appreciate it. I would even internalize it. Who knows, it could potentially spark a flame of ambition in my young mind.
Another thing that's been keeping a smile on my face is hearing all the good news about friends that have already gotten interviews and even acceptances from medical schools around the country! CONGRATS to all of you already hearing back from medical schools, y'all highly deserve it!! It really makes my day every time I hear about someone I know getting either an interview or an acceptance because Lord knows I know the feeling. Especially that feeling of your first acceptance. It's amazing to think that I was applying to schools as well as painfully waiting for replies around this time a year ago. At that time, I had absolutely no idea what my future would look like, much less where I would end up. Hell, I didn't know until six months ago if I would even be going to medical school this fall. (The MCAT can go to hell. t(-_-t) ) So to all of you that may be painfully waiting right now to hear back from schools and may be painfully waiting for the next few weeks or even months ahead, keep your head up. Anything can happen at any given moment. And congratulations on having the drive to get thru the MCAT and the application cycle, that in itself is a feat to be proud of. Not everyone is blessed with that gift.
And to all of you going on interviews, honestly just be yourself. It's cliché as hell but it's cliché for a reason. It works. You already know all the answers to the questions they're gonna ask you because you're the only person that's lived your life. If they're putting time aside to talk to you, they want you at their school. All they need you to do is talk about yourself, and ask them questions about their job and institution. Think about how hard it is to screw that up. So don't stress about it, just do it! Plus there's plenty of stress to choose from after you make it into your school.
With that said, GOOD LUCK to all of you applying to medical schools! Patience and persistence is key!
Y'all be blessed!
– Black Man, M.D.