Before I delve into today's post, I of course have to wish all of you amazing mothers a Happy Mother's Day!!! I've said it in past years, but it will always bear repeating: You are extremely appreciated for all that you do for your families and loved ones! Thank you for everything that you do!! ❤️❤️❤️
Being a mother can be such a thankless job, even though it is absolutely one of the hardest jobs on the planet. Speaking of, that reminds me of a video I watched a few years back describing how hard of a job being a mother is. If you have a few extra minutes, I recommend that you watch it. When I first watched it, it definitely gave me a new perspective on what being a mother meant. Watching it again today, I'm reminded of how hard my own mother works for my family and I'm sure that many of you can think of all the countless times that your own mother has helped to get you where you are today. So be sure to take some time today (or honestly any day of the year) to show your mom some love and appreciation for all that she does!
I'm very thankful that I'll get to see my mom in person, along with the rest of my family, extended family and family friends, for graduation this upcoming weekend! Yes, this upcoming weekend as in I have only one week left until I'll be offically hooded and conferred my medical degree! Now that it's so soon, the excitement is really starting to hit me!
I'M SOOO PUMPED!!!!! 😄😄😄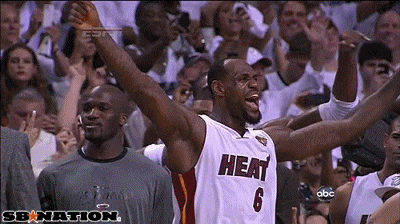 My excitement was intensified this past weekend as I watched my significant other graduate with her Master of Science in Public Health! (Congratulations again babe!! 😁😘) Witnessing the ceremony and hanging out with her family was awesome and although she will immediately continue with her doctoral work due to the nature of her combined MSPH/PhD program, I'm glad that she was given the opportunity to walk across the stage to signify the completion of this major acheivement.
We also got the chance to listen to Dr. Richard Besser, the current President and CEO of the Robert Wood Johnson Foundation, speak at the graduation ceremony. I was very impressed with all of the incredible things that he has done with his medical degree (medical journalism, acting director of the CDC, author, two-time Emmy Award and Peabody Award winner, awardee of the Surgeon General's Medallion; the list goes on and on), but when I learned that he was a Pediatrician, I was instantly hooked. He is the embodiment of someone who decided to diversify their career in remarkable ways and is living proof that I can literally do whatever I desire to do in my own career. It was really cool to hear him speak and to absorb the useful advice that he gave to us!
My week leading up to yesterday's graduation festivities was pretty relaxing overall. Although I spent most of the early part of the week powering through modules and other requirements that needed to be completed prior to starting my residency training, I spent the rest of the week planning out what my graduation weekend was going to look like, reading books and hanging out with my girl. We did chill things like go to trivia night, visit a vineyard, and watch movies & documentaries. It was a nice and calm week, something that I needed before the whirlwind of these next couple of weeks!
Now with most of my gradation festivities happening next Sunday and Monday, I'm going to go ahead and tell you that my next post will most likely be a late one. I probably won't be able to type up a post until Tuesday or a little later and because it will be the final post of my medical school experience, I want to give it the time and energy that it deserves!
Uhhh hold up, this means that this current post is technically my last post as an active medical student…..
Wow, I just got hit with "the feels" all of a sudden.
This is actually my last post as a medical student! 😭😭😭😭😭
This is so wild! I'm sitting here thinking back to the beginnings of this blog and how I wanted to encapsulate my medical school experience by posting about it on a weekly basis. I remember thinking to myself how crazy it would be to actually follow through with this mission that I had set for myself and how much content I would end up creating if I was able to consistently post on a weekly basis. I had told myself that the best way to ensure that I followed through with this was to simply take things a week at a time. Eventually, I would look back and see how far my system had taken me.
Well, "eventually" is now.
I've actually managed to type up a post every single week for the past 194 weeks!!
194 WEEKS!!! THAT'S OVER THREE AND A HALF YEARS!! 😮😮😮
It's incredible to think about. Like, I really had something to say in each of those posts. It's also incredible (and downright hilarious) to see how much I've grown and matured since the beginning my first year of medical school. Even the way I wrote my posts was somewhat different than it is now! I'm REALLY glad that I decided to follow through with documenting my experiences on a consistent basis because not only is it cool to read through my old posts in a chronological order, but they will now forever be there as a reference for those who need it! I sure would have very much appreciated a blog like this during that summer prior to my first year!
As I reflect on the past, I can't help but wonder what the future of this blog will look like. Many people have asked me what I'll do with it now that I'm about to graduate. I've wondered the same thing for a while now, especially since I've pretty much accomplished what I had initially set out to do with it. I'm definitely not planning on stopping cold turkey, especially since it has now morphed into a part of my identity. However, I've considered not posting as frequently as I currently do (maybe once every couple weeks or once a month?) since I'll be much more busy as an intern and won't really have the time or energy to post weekly. Or maybe I can continue posting weekly and see how far I get in doing so? Idk.
Also, I've been itching to expand this blog for a while now and potentially even switch up the look of the website to something fresh and new to signify a new era of my life. Man, so many possibilities! I know deep down that this platform has the potential to be even bigger than it already is, especially now that it has been in existence for almost four years and has amassed a strong following and reputation throughout that period of time. But alas, only time will tell what I ultimately end up deciding to do with it. There's really no limit to how far I can take this blog, which is both exhilarating and daunting at the same time. Knowing me though, I'll end up finding a way to take it to the next level! 😉
And with that, I'll bring this significant post to an end!
THANK YOU SOOOOO MUCH to each of you who have followed me along this journey over the years, I really can't describe in words how appreciative I am for all of your support!! I look forward to graduating next weekend and closing out this saga of my life with you all in my next post!! 🙌🏿🙌🏿🙌🏿
"The future belongs to those who believe in the beauty of their dreams." – Eleanor Roosevelt
– Black Man, M.D.