Well, this week was quite an adventure, to say the least.
In fact, it was so much of an adventure that I'm actually typing this post on a plane back to North Carolina from Minnesota. Wait, why am I on a plane? Better yet, why was I in Minnesota? Aren't I supposed to be at camp getting ready to start the week? Lol, I'll get to all that later on in the post. 😉
I want to start off by talking about my first full week at the Victory Junction Summer Camp. Simply put, it was both a touching and challenging experience. It was also pretty tiring, yet very fun! And I've been eating reeeal good here. (Shoutout to all the free meals I've been getting here on a daily basis.) Me and the other counselors in my cabin were assigned to care for a young group of boys aged 6-9 who were diagnosed with various blood disorders and gastrointestinal conditions. If you didn't already know, having to look after seven little boys who like to play around at all times of the day isn't the easiest thing to do. Them being hyperactive, hating to go to sleep, having very different personalities and testing our rules to their hearts' desire didn't make things any easier either. Plus let's not forget, they have chronic medical conditions that require our attention. At the same time though, it was really fun interacting with them and engaging them in various activites across the camp! Some of the activites we did included fishing, paddle-boating, archery, playing with horses, bunnies, goats & llamas at a barn, playing in a waterpark, making arts & crafts, playing video games, watching Joey Logano speed around our camp in a racecar at what we call "NASCARnival", and various other things. Before last week, I had never even done half of those things before! Also, the kids who were NASCAR fans flipped when they saw Joey, who just so happens to be a famous NASCAR driver. I had no idea who he was, so I looked him up and he happens to have a net worth of over $20 million. Go figure.
Although I was working as a camp counselor for the week, I made sure to observe what the medical volunteers were doing with our kids whenever they came around so that I had a better understanding what measures these kids needed to take in order to keep their lives as "normal" as they could. Although the kids were living their best lives at camp like any other kid would, their conditions still had to be managed quite frequently by the medical team as well as by us counselors. There were a lot of ostomy bag changes, IV flushes, device recalibrations, trips to the onsite clinic after any one of the kids with his respective bleeding disorder would suffer from a fall, wound or sustained nosebleed, and dressing changes. It was unreal to witness the resilience of these little warriors and how candid they were to each other when talking about how they live with their respective illnesses. Like, two kids would be having a candid conversation about how many times per day one of them would have to change his ostomy bags and how many times the other boy had to get ports placed in him due to various infections. Then a minute later they would talk about a movie or something and I would be just standing there like: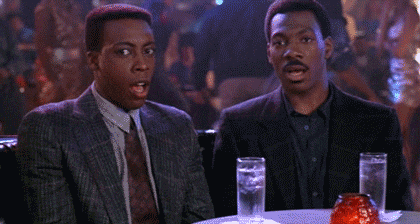 It was amazing to see how the kids interacted with each other, especially when some of them found out that they had the same condition. It was as if they had never met someone else with their same illness, much less someone their own age. The moment that those particular kids discovered they had the same diagnosis was a precious one that I'll never forget. Moments like that was one of the reasons why this camp was built in the first place. Alongside moments like that, there were other times where the boys would spontaneously get into altercations with one another. Having to deal with those issues weren't as precious, as you could probably imagine. But with that said, I think that because this camp is structured the way it is, it forces the kids to learn how to get along with their peers in a non-school setting away from home. Good thing with most kids their age is that they're good at brushing off conflicts and can get back to playing together rather quickly. Reminds me of how simple my own life used to be when I was a kid…good times, good times.
All in all, my first week at camp was a successful and unforgettable one, even though I was missing the majority of the World Cup games and felt like the world was passing me by while I lived in the camp bubble. Along with interacting with the kids, I've made good friends with the counselors in my cabin as well as with various summer staff workers outside of my cabin. I'm looking forward to getting back to camp and meeting our next group of campers, who will apparently have various types of neurological disorders and will be teenagers. It's also going to be a short week due to the 4th of July taking place on Wednesday, which only gives me less than three days to establish relationships with them. That just means that I gotta make the most of my time with them!
Alright that's all I got for today! See ya later!
Lol I'm just messing with you, you thought I forgot about the whole Minnesota thing didn't you?
Yeah you did, don't lie.
The reason that I traveled to Minnesota a day after leaving camp was because I had to be in attendance for the SNMA's first National Leadership Institute of the 2018-2019 term. As a member of the Board of Directors, I'm required to attend these conferences, which take place every three months at different locations throughout the country. This conference just so happened to take place at the University of Minnesota in Minneapolis. I must admit, Minnesota wasn't on my bucket list of places to travel to. However, I was very surprised at the incredible diversity of the city and was completely blown away at how enormous the Mall of America was! Like bruh, there's a whole amusement park with rollercoasters and ferris wheels and whatnot in that mall! Not to mention the Marriott hotel and the aquarium. And don't even get me started on the ridiculous number of stores and restaurants (*cough* Benihana's *cough* Hard Rock Cafe *cough*).
We had a meet-and-greet on Friday night, where all the pre-meds, medical students, physicians and University of Minnesota SOM faculty mingled and chatted with one another. The majority of the conference took place on Saturday, where we had several excellent presentations concerning various topics such as working to combat the current devolution of our society, being an effective leader, the rich history of the SNMA, adequately caring for people afflicted with disabilities while addressing their concerns in an effective manner (this session was led by people who actually suffer from various disabilities, which made it even more engaging), the potential dangers of social constructs and how they can be used to oppress various populations of people, the incredible importance of social workers, the hazardous nature of making assumptions, dealing with microaggressions, the importance of health equity and advocacy (this presenter used the Black Panther movie to reinforce his message which was very effective), the power of social media and writing op-eds, the various ways in which business can affect the practice of medicine, being knowledgeable about health insurance in order to effectively advocate for the patient, and financial planning. I was also able to attend and participate in the two Board of Directors meetings that took place at the conference. Yeah yeah I know, that was a lot. But there were just so many great things that were shared with us, and I want you to get a good birds-eye view of what we talked about at the conference. I wish I could go into more detail about some of the topics that I've listed here, but I don't got all day to type this already lengthy post out. Plus, I'm going to be landing soon and I want to be pretty much done with this post by the time I get to NC.
So with that said, I'm going to go ahead and end this novel here. I had a great time at the conference and was able to not only reconnect with people but also make new connections with some wonderful people. Overall, the week was quite an eventful one! I'm looking forward to seeing what this upcoming one has in store!
I hope that your week is a splendid one! And have a Happy 4th of July!
"Man never made any material as resilient as the human spirit." – Bernard Williams
– Black Man, M.D.