I'm pretty sure I say this every time we hit the month of March, but I'm gonna say it again anyway:
I LOVE MARCH MADNESS!!!!!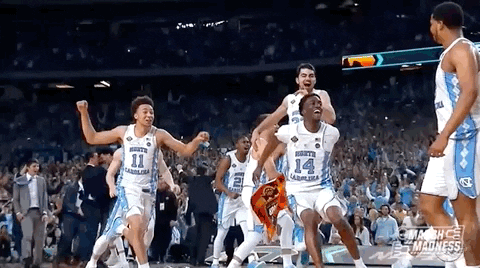 The thrill of the games is incredible. The absurdity of filling out brackets that have virtually no shot at correctly predicting the utter madness of the tournament is contagiously fun. That feeling you get when you correctly predict an upset is electrifying. The despair you feel when your bracket is busted thanks to an upset NOBODY in their right mind saw coming is crushing…..yet at the same time watching an underdog team no one believed in go on a cinderella run is incredibly exhilarating. There's no time like March Madness; it really is one of my favorite times of the year. We're two days in and of course my brackets are quite busted, but I'm surprisingly still doing quite well in most of the group competitions I'm playing in. We'll see how much madness the next couple of weeks brings us though 😅🏀
On a similar note, I find it both hilarious and amazing that, by way of the Nephrology Social Media Collective internship that I'm in, I've been asked to participate in the American Journal of Kidney Diseases' (AJKD) 10th annual #NephMadness competition, "a nephrology educational initiative that is modeled after the college basketball tournament but with nephrology concepts". It essentially is a tournament where the subtopics (teams) of various topics related to nephrology (regions) are pitted against each other in a bracket and the winner of each game is determined by the votes of the "Blue Ribbon Panel", a panel of nephrology experts who "pick the team that, in their opinion, will cause the most practice change in nephrology over the next 5 years". This is what the bracket looks like:
It is such an ingenious idea and it has obviously been successful thus far, considering that this is the 10th year that the official blog of the AJKD is hosting the tournament. Not only do I get to create a bracket based on a number of cutting-edge nephrology concepts that I will come across throughout my career as a pediatric nephrologist, I also get to read and learn about each of these topics in order to decide which topic I think will win each "game". I can also make a bracket with my "pod", which is a group of people who I am completing the internship with, and then we can brag about our team bracket as well as our individual brackets with each other both in our Slack group and on Twitter. I love this initiative and will be actively participating in this year's iteration of #NephMadness!! 😁
All of this March Madness talk reminds me of my pair of Match Madness posts (MATCH MADNESS: The Anticipation & MATCH MADNESS: The Outcome) from three years ago where I talked about my Match Week experience and all of the thoughts and feelings I had throughout that time period. Man, what a time! It is so wild that my Match Week was that long ago…I literally remember it like it was yesterday. It has been heartwarming and insightful to see medical students across the nation post about their match week experiences. I'm also glad that a lot of match day celebrations were in-person, unlike the past couple of years where they were pretty much all virtual and isolated. As one of the rising chief residents of next year's resident class at my institution, my co-chiefs and I got the opportunity to call and congratulate every rising pediatrics intern who matched at UNC! I'm so looking forward to meeting each of these individuals in-person and serving as one of their chief residents!
Speaking of chief resident status, I've spent the past few weeks on my "Chief" rotation, which has consisted of me spending a lot of time in the pediatric education office with other leaders in the pediatric residency program fulfilling a wide variety of administrative tasks. It has been a flurry of meetings, making resident schedules for next year, and learning how to effectively execute the role of chief resident, amongst other things. It has overall been an eye-opening experience…not that I didn't already know this, but this month has confirmed that I am going to be quite busy as a chief resident 😅. Although I've been busy with various administrative tasks these past few weeks, I've also been able to enjoy a much better day-to-day schedule compared to my schedule last month where I was working nonstop in the hospital. This admin schedule has been more of an 8am-5pm workday with most of my weekends completely off. I've been able to actually enjoy my time off by hanging out with friends, going to the gym, spending time with my wife, playing video games, fulfilling other tasks that I had been putting off, and of course watching college basketball. I've also enjoyed the extended bonding time that my co-chiefs and I have had throughout this time period!
I have one more week of this rotation before moving on back to clinical work in the ED. My shifts will probably be busy but I also have a good amount of time off during my next rotation. The rotation will end with a two-week vacation where I'll be going to Denver for the Pediatric Academic Societies conference as a New Century Scholar and then Bora Bora for my wife and I's honeymoon! So much to look forward to next month! 😄😜🙏🏿
That's all I have for you today! I hope that you have an awesome rest of the weekend and a fantastic start to the spring season!
And shoutout to all of the incredible people who donated to this year's Desire To Inspire Scholarship and helped us exceed the $3000 fundraising goal we set for this year! Be on the lookout for the official announcement of this year's scholarship in early April! 😄
"Just follow your joy. Always. I think that if you do that, life will take you on the course that it's meant to take you." — Jonathan Groff
– Black Man, M.D.